Anthony Castelli is an attorney that rides motorcycles. Anthony is a biker just like you. He has represented bikers who have suffered significant injuries in motorcycle accidents.
A lawyer that has ridden will understand you. When you explain how you maneuvered your motorcycle, I'll understand. If you tell me that you laid your bike down when the cager turned in front of you, rather than slam head on, I won't question your ability. I'll applaud it!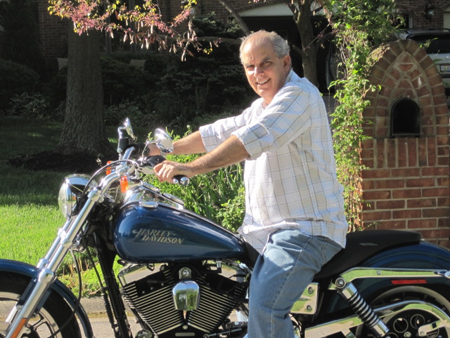 Don't you want an attorney standing up for your rights that is driven to "Take Care of his Own "? I'll do everything in my power to understand your case, your injury, and your needs so I can take care of you and your family.
I consider it an honor and privilege to fight for fair compensation for your injuries, to see that you get every penny you deserve. So call me right now at 513-621-2345. I'm waiting to help you with your motorcycle injury.
I am a member of the American Motorcyclist Association, Abate of Ohio, Breakdown and Legal Assistance for Motorcyclists (BAM), Motorcycle Riders Foundation and Concerned Motorcycle Riders Of Ohio.
I'll help you with your bike property claim, but I won't take a fee from that.  My fee comes out of what I recover for you for your injury.
 
Motorcycle Injuries Practice Center
Anthony Castelli has represented people who have suffered significant injuries in motorcycle accidents. It will cost you nothing to speak with him regarding your potential claim. Anthony works on a contingency basis, which means that a legal fee is paid only if he successfully obtains a recovery for you.
 Click Here for the following Motorcycle Videos (See Videos):
10 Main Reasons to hire a Motorcycle Lawyer
The Best Motorcycle Insurance You can Buy
3 Critical Mistakes Motorcycle Injury Victims make and How to avoid them
You Can Afford To Hire A Motorcycle Attorney - No recovery No Fee
No Helmet No Recovery Myth
How To find and Hire A great Motorcycle Attorney
Also See:
Motorcycle Accidents - An Overview
Motorcycle riders are in a unique position on the road. They enjoy the freedoms that come with their chosen form of transportation, but they are also left exposed to dangers not met by automobile drivers and other motorists. The lack of any substantial protective barriers between a motorcycle and the road, as well as the failure that motorists may experience in anticipating and seeing a motorcycle, leave riders prone to serious motorcycle injury in the event of an accident. Motorcycle riders, therefore, must be aware of their legal rights and remedies if they are involved in a traffic accident. The insurance and traffic laws in Ohio can be very different with respect to motorcycles versus automobiles; consequently, it is very important to consult with a motorcycle attorney regarding the applicable laws and your rights if you have a serious injury. I welcome your call for a Free No Obligation case evaluation. 1-800-447-6549