Were you injured in a motor vehicle accident in Cincinnati or the surrounding areas? Then you have come to the right car accident lawyer.  Attorney Anthony Castelli. is a top auto injury advocate with decades of experience successfully handling cases like yours. For a complimentary consultation, please call our law firm at 513-621-2345.
Browse the sections below to learn more about motor vehicle injury rights:
In 2018, there were 36,750 motor vehicle fatalities in the U.S. Many thousands more suffered serious physical injuries. In Ohio in 2017, 1,179 people were killed in motor vehicle accidents. Each of these tragedies involves an irrevocable loss. If you are the loved one of a person killed in a crash, then Mr. Castelli will fight to recover wrongful death compensation on your behalf.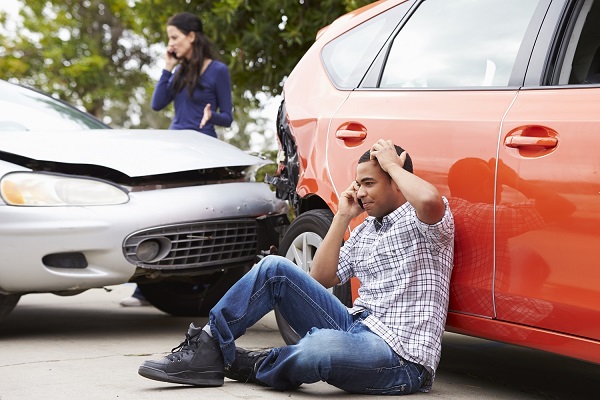 Experienced Motor Vehicle Accident Lawyer
Mr. Castelli secures the best possible results for his clients in all types of motor vehicle accident cases, including:
Over 38 years practicing law, Mr. Castelli has remained a passionate advocate for his clients. He has seen first-hand the consequences a serious accident injury has on someone's life and livelihood. He has dedicated his career to recovering the compensation and justice these accident victims need and deserve. (2019)
Anthony Castelli has received an AV Preeminent rating from Martindale-Hubbell. This rating means his peers have ranked him at the highest level of professional excellence for his legal knowledge, ethical standards and communication skills. It is the highest rating that can be given.
Mr. Castelli has also received the distinguished honor of top ratings from AVVO and is an Ohio Super Lawyer in the category of personal injury. He's represented more than 30 civil injury trials and has resolved thousands of motor vehicle accident cases during his career.
How Do I Know if I Have a Case?
Contacting Mr. Castelli is the only way to know for sure. The law firm resolves cases in which the accident and resulting injury was caused by someone else's negligence. When carelessness is the cause of the crash, you may have a case. Examples of negligence include:
Reckless driving
Speeding
Drunk driving
Distraction and inattention
Drowsy driving
On the other hand, it may be the fault of a careless manufacturer, designer, architect or other party who ultimately caused the crash. For example, an auto manufacturer may be at fault for defective airbags, defective tires or other faulty vehicle components that cause a wreck. Architects may be at fault for roads designed so poorly that they cause people to crash. Mr. Castelli knows how to get to the bottom of the case, to determine who is liable for your accident injuries.
Why You Should Hire an Attorney
The aftermath of a motor vehicle accident is overwhelming. If you are seriously injured, you may have no idea where to turn next. While the most minor of fender-benders may not require an attorney, serious accidents involving expensive injuries and catastrophic vehicle damage usually do. Here is how Anthony Castelli helps his clients during difficult times:
Dealing with the insurance company so you don't have to
Seeing common insurance company tactics from a mile away
Advocating for what is in your best interest, not the insurance company's
Fighting to recover maximum monetary compensation on your behalf
Call us to find out how we can help you. Mr. Castelli provides you with clear, honest answers about your options. Your case evaluation is free, so there's no risk in finding out how Mr. Castelli can help you and protect your rights.
Potential Accident Compensation
A catastrophic injury has a profound impact on the victim's life. Mr. Castelli wants to get to know you and your family so that he can fight knowledgeably for every dollar you deserve. Compensation may be awarded for:
Present and future medical bills
Lost wages
Pain and suffering
Diminished earning capacity
After an accident, it's a good idea to keep a daily diary of the effects. Log the financial expenses, physical pain and symptoms, emotional state, the effect on your life and the lives of your family – anything connected to the accident injury. These notes and the information may be very valuable in making your case.
Insurance Claims Dos and Don'ts
While most insurance companies talk a big game about coming to your aid after a serious motor vehicle accident, their actions tell a completely different story. The goal of your insurance company is to maximize their profits, not to protect your rights. They maximize profits by charging high premiums and limiting the amount they must pay after accidents.
In many instances, insurance companies will go to great lengths to limit your benefits. They may employ one or more of the following tactics to achieve this goal:
Offer you a settlement that doesn't adequately reflect the true extent of your damages
Pressure you into settling before consulting with an experienced attorney
Pressure you into signing waivers, statements, or releases which may limit your ability to recover compensation in the future
Shift fault for the accident to you in order to unfairly reduce or deny your claim
Mr. Castelli knows the tactics insurance companies use to try to unfairly limit your compensation, and he's prepared to battle your insurance company in court if necessary to recover the compensation you deserve. In the meantime, consider these dos and don'ts, and give Mr. Castelli a call as soon as possible.
DO call your insurance agent to report the accident.
DO review your insurance policy and coverage before calling your agent to report the accident. You should know your coverage before having this conversation.
DO document conversations with your insurer. You can do this by jotting down some notes about the conversation after you hang up the phone. Note who you talked to and what you talked about.
DO check your homeowner's insurance policy and your credit card benefits to see if you have additional coverage for your injuries and property damage.
DO take pictures, if possible. Take pictures of damage to your vehicle, your injuries, the accident scene and the position of the vehicles.
DO be honest with your insurer. You don't have to say the accident was your fault, but you should tell them what happened. Stick to the facts.
DO keep track of all expenses related to your injury, including medical bills, hospital statements, medication costs, etc.
DON'T give any recorded or written statements to your insurer before talking to Mr. Castelli. He'll make sure you know what to say and what information you are required to provide them.
DON'T automatically accept the damage estimates provided by your insurance company. They may undervalue your claim. Talk to Mr. Castelli first.
DON'T accept a quick settlement check from your insurance company. You may be owed more.
Key takeaway: Call Mr. Castelli if you are unsure about what you should or shouldn't do after a motor vehicle accident. With decades of experience informing him, he can let you know what to do in order to secure the best possible monetary award.
Accidents Involving Uninsured/Underinsured Motorists
Some drivers fail to get required insurance coverage, or fail to get enough coverage. These motorists are known as uninsured and underinsured drivers, respectively. Lack of car insurance is illegal, but occurs nonetheless. In fact, 1 in 8 drivers was uninsured in the year 2015 (the latest available statistics), and that number is estimated to be rising, not declining. More than 12 percent of Ohio drivers were estimated to be uninsured that year.
Every auto insurance policy offers uninsured and/or underinsured motorist coverage (also called UM/UIM coverage) so you can protect yourself against these drivers. Anthony Castelli has seen the dramatic difference it makes when one of his clients is able to get monetary compensation from their UM/UIM policy when they otherwise would be left high and dry. He urges you to add as much of this coverage as you can reasonably afford. It can make a big difference when you need it most.
What to Know About Uninsured Motorist Coverage
UM coverage protects you if the at-fault driver has absolutely no liability insurance. As an added benefit, UM coverage extends to most hit-and-run accidents, since no driver is available to be held accountable for your injuries.
Here's how motor vehicle accident attorney Anthony Castelli can help: You want to be sure you get your UM benefits, and the fullest extent of those benefits. Sometimes, insurance companies will delay, deny or underpay UM claims. Mr. Castelli makes sure you get the coverage you have been paying for all along.
What to Know About Underinsured Motorist Coverage
With UIM coverage, you get paid when the at-fault driver doesn't carry enough liability insurance to cover the actual costs of your injuries. This often arises when a motorist doesn't want to pay for adequate liability, so they get the cheapest coverage that is legal, but often insufficient.
UIM coverage can be really valuable. You should be able to recoup this coverage to make up for the underinsured driver's shortcomings.
Key takeaway: Call Anthony Castelli if you want to make sure you get the full insurance coverage you are owed. He has been practicing in Ohio for decades, so he knows how the insurance laws work and how policies work. He'll make sure you are getting treated fairly and in good faith by your insurer.
Your Complimentary Consultation
If you or a loved one has been injured in a motor vehicle accident in Cincinnati, Mason or the surrounding areas in Ohio, you can pursue maximum compensation with the assistance of experienced attorney Anthony Castelli. For a free case evaluation, please call our law firm at 513-621-2345.
Further Reading on Neck Injury Settlements in Cincinnati, Ohio:
What is the Average Neck Injury Settlements in Cincinnati,Ohio