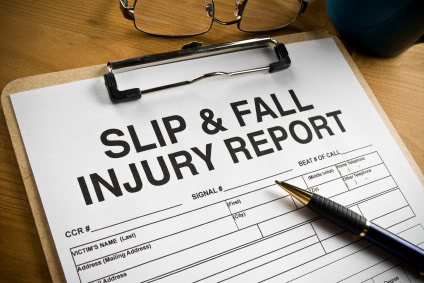 Slip and fall accidents are very common, and they refer to a situation where an injury occurs after slipping, tripping or falling on the property of another. Often, these accidents could have been avoided if the property owner had taken the appropriate steps to maintain safe conditions. If you've been injured in a slip and fall accident caused by the negligence of a property owner, you may be entitled to recover compensation for your damages.
Premises liability law governs all claims associated with injuries occurring on a poorly maintained property, including slip and fall accidents. Premises liability laws require all property owners to ensure safe conditions for visitors and guests. When they fail to do so and you suffer an injury as a result, the property owner may be held responsible for any damages associated with your slip and fall accident.
You can learn about your legal rights and options by speaking with Anthony Castelli in person. Please call (513) 621-2345 today to schedule your free consultation at our Cincinnati personal injury law office.
Causes of Slip and Fall Accidents
There are a wide range of dangerous conditions that can potentially cause a slip and fall accident, including:
Wet floors
Cracked or uneven stairways
Potholes
Rippled carpet
Uneven sidewalks
Snowy or icy sidewalks
Poorly maintained handrails
Poorly lit or unmarked stairs or pathways
Obstructions on the floor
Unbalanced flooring
Tripping hazards
It's important to take photos of the dangerous condition immediately after the accident. You have a short time window to document the hazard since it's likely that the property owner will make an effort to fix the issue right away. Once these repairs are made, it will be very difficult for you to prove your injuries were caused by an unsafe property.
The Ohio Landlord Tenant Act
Traditionally, the laws in Ohio left tenants with very few rights under premises liability law. In order to recover compensation, the injured tenant had to prove that the landlord negligently caused the injury occurring in their accident. This standard made it very difficult for slip and fall victims to recover compensation for their damages.
However, the enactment of the Ohio Landlord Tenant Act has made it much easier for slip and fall victims to recover compensation. According to this law, landlords are required to:
Make all repairs and do what is necessary to make the property safe
Comply with all requirements of applicable building and safety codes
Keep common areas safe
Maintain in good and safe working order all appliances and...other systems
In recent years, the Ohio Supreme Court has ruled on several cases involving the Landlord Tenant Act in a way that has expanded the rights of slip and fall injury victims. Mr. Castelli is aware of this case law precedent and can use it to help strengthen your case.
Proving Negligence in Slip and Fall Lawsuits
Whether your slip and fall accident occurred on public property or at a private residence, the property owner had the same obligation to maintain safe conditions for all visitors. These responsibilities include making a concerted effort to identify hazardous conditions, clearly warning all guests of the danger, and making all necessary repairs in a timely manner.
Unfortunately, it can often be very challenging to prove a property owner is negligent in a slip and fall claim. You'll need to provide evidence demonstrating that:
A dangerous condition existed on the property
This hazard directly caused your slip and fall accident and your ensuing injuries
The property owner either knew or should have been aware of the unsafe condition yet failed to take the necessary actions to fix the problem and warn visitors before repairs were completed
The third element is by far the most difficult to prove. You will need to present evidence documenting one of the following:
The property owner created the hazardous condition that caused your injury
The property owner was aware of this dangerous condition yet failed to take the necessary actions to repair it
The condition existed for a long enough period of time that the property owner should have reasonably been made aware of its existence and had time to repair it prior to your accident
Mr. Castelli has more than 30 years of experience handling slip and fall claims in the Cincinnati area. He knows the complex issues related to these cases, and he can help you hold the negligent property owner accountable for your injuries.
Please contact the Law Office of Anthony D. Castelli by calling (513) 621-2345 today to schedule a free slip and fall accident consultation. Mr. Castelli serves clients in Cincinnati and throughout Ohio.