As a personal injury lawyer with clients in serious pain I worry about the recent pronouncements by the FDA about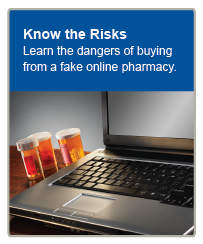 Chronic Pain Online Pharmacies
purchasing drugs from bogus online pharmacies. The FDA has put up a resource page to help consumers of drugs educate themselves on this issue. This site has comprehensive information on many issues faced .
Know The Risks
Some of the risks discussed from running afoul of a bogus pharmacy are:
The drugs you receive may look real, but they could be counterfeit, contaminated, expired or otherwise unsafe. If you receive counterfeit or substandard medicines, they could keep you from getting better, make you sick or worse.
Medicine that is approved for use in the United States has been reviewed for safety and effectiveness by the FDA. Medicine that may be approved in other countries or produced by unknown sources may have slight variations or different ingredients that could cause you to get sicker, develop a resistance to your medicine or cause new side effects. If you take more than one medication, these differences could also affect the way other medicines work or cause harmful interactions.
Most fake online pharmacies lack adequate safeguards to protect personal and financial information, and some intentionally misuse the information you provide. These sites may infect your computer with viruses or sell your personal information to other rogue websites and Internet scams. If you buy medicine from a fake online pharmacy, you also risk being harassed by repeated emails and phone calls or being charged for products you never ordered or received.
 How Can You Protect Yourself From Bogus Online Pharmacies
The FDA gives some guidance is how to identify these rogue pharmacies. They caution these items as things to tip you off:
Allow you to buy drugs without a prescription from your doctor
Offer deep discounts or cheap prices that seem too good to be true
Send spam or unsolicited email offering cheap drugs
Are located outside of the United States
Are not licensed in the United States


Know Your Online Pharmacy




The FDA caution you to know your online pharmacy

.

They say that fake online pharmacies can manipulate their web sites so check the pharmacies license. 

USE THIS LINK TO CHECK THE LICENSE
Once you have identified a state-licensed online pharmacy, also make sure the pharmacy:

Requires a valid prescription from your doctor;
Provides a physical address and telephone number in the United States; and
Has a licensed pharmacist to answer your questions.

By Anthony Castelli Attorney a personal injury lawyer practicing Ohio law.  Anthony offers free consultations on serious bodily injuries. Call today for a free legal consultation and claim review. 513-621-2345Sources: Federal Drug Administration