Posted: September 3, 2012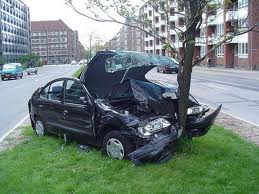 Cincinnati teen car accident
As an personal injury attorney I deal with car accidents on a daily basis.  But safe teen driving and conversely its' perils have become very intimate lately. My son just got his temporary permit but that was not the issue. I recently caught him with a sixteen year old driving my son and another friend in the car. Both are not quite 16. Supposedly he was going bowling and the father of his friend was going to take them.  He got out of the house while I was not home and his mom was downstairs doing laundry. So we did not see who picked him up. I just had a sixth sense that he was out with friends.  Luckily we are hooked into our kids with cell phones and when I went to where he was supposed to be and did not find him  I called him and gratefully he answered.  
Ohio Teen Driving Law
  Most states have gone to graduated driving. This means there are certain restrictions on what a 16 and 17 year old driver can do. In Ohio, probationary drivers under 17 are not permitted to operate a motor vehicle with more that one person in the car who is not a family member unless accompanied by the driver's parent. Also 16  year olds are not permitted to drive a vehicle between midnight and 6 AM.  17 year olds are not permitted to drive between 1 AM and 5 AM unless going to or from work or school. They must have on their person a valid form from their employer. There are fundamental accident prevention reasons for this.  
Statistics on Teen Driving Causes of Crashes
  Studies conducted by the Intitute of Highway Safety have shown that one passenger doubles the risk of a crash among teen drivers, two passengers triple the risk. Three or more passengers increase the risk by more than 6 fold. For nightime driving restricted between 12-5 AM there is a reduction on the order of 20% and increase the restriction from 9 pm the reduction in nightime fatalities has been up to 40%. Eight American teens die from motor vehicle injuries every day. If there was a disease doing this every American medical researcher would be looking for a cure. Car accidents are the leading cause of teen death in the United States. Although declining presumably because of graduated driving laws its still a major issue.  
Some Solutions To Teen Car Crashes
  As a trial lawyers we can become involved with our schools and teach programs to educate the students and parents. We know how to talk to people. We know how to pursuade. It's not fear that is going to persauade. Gory pictures do not do much , but a rational approach can work. Roberl L Sach Jr has a great article on Teaching Teens About Safe Driving in the Asssociation for Justice Trial magazine Feruary issue. Of course the driving drunk scenario is always an issue. Maybe more importantly is the ability for a teen to say no to driving with a drunk driver. It's not only your child's driving you must be concerned about, but the person driving your child. 1.    Get your teen to sign a safe driving contract . This at least makes clear the ground rules, expectations and consequences. 2 .Be engaged with your child. The parent that asks; a. Where are you going? b. Who are you going with? c. What stops will you be making? d. Will there be any drinking? e. When will you be home? f. Keep your phone on and check in with me. Has a better chance of preventing a harmful driving event.   Give your child chance to get out of trouble gracefully. Let them know if they sense a problem, such as  the driver of the car is drinking or too many people need rides, that they can call you for a free ride and no discipline will be given .  
Back To My Son
  My son was grounded for the week and their was a big party he wanted to go to that he missed.  He thinks he just told a lie, and since he apologized that should be it. But  he does not understand the enormity of "joy riding" with two other  friends, even if it was in the middle of the day and no drinking was involved. It's not only illegal for the driver but unsafe for my son and the others in the car. It is the first time he's ever had any real punishment. A child that was my best buddy now hardly even speaks to me. It hurts me deeply. This too shall pass.  How much worse would it be to deal with a serious or even fatal injury . I do not even like to write those words. But if I put my head in the sand what kind of parent am I.  Resource: www.teendriversource.org