Hero's Ride Fairfield Ohio
I just got back from the 9th annual Hero's Ride. This motorcycle event honors many of the local Ohio soldiers that lost their life serving our country. There were hundreds of motorcycles lined up ready to take a police escorted ride from village Green Park through Butler County to Hueston Woods and back to Fairfield. They left promptly at 1 PM after a short ceremony.
There were many veterans and friends of veterans in attendance. I ran into Dr Sam Arnold, friend and advocate for veterans as I was waiting for the ride to start. As always he regailed me with stories deeply secret . It reminded me that both he and John Parayzinski had been guests on Cincinnati biker life when I was doing the radio show. And how much I had enjoyed meeting these two men.
The death of John Prazynki's son, Lance Corporal Taylor Prazynski, who was killed in 2005 while serving in Iraq was the initial impetus for this event. Back in 2005 a group of motorcycle enthusiasts banded together  to raise funds in honor of Taylor. However the group was acutely aware of others that had lost their lives and they are now honored by this ride along with Taylor.
In addition these men are:
Spc Joseph Bauer                      LCpl Michael J. Cifuentes      
Spc Michael Cook, Jr.              CW2 Jody L Egnor
Cpl. Joshua Hartzell                  Pfc Timothy J. Hines                  
Cpl David Kreuter                      Sgt David James Luff Jr.
Pfc.JamesH. MillerIV               SSG Keith Maupin                        
Spc.Donald Morrison              Cpl. Nicholas Olivas
Cpl. Lucas T. Pyeatt                  Sgt.James C. Robinson Jr.
LCpl.  Jeremy Shock                LCpl.  WilliamD. Spencer
Cpl.  Anthony Vinnedge          Cpl. Robert Weber           
SSGT Mark A.Wojciechowski.
The proceeds of the ride go to benefit the program "Impact a Hero." This is a non profit partnership of business leaders, entertainers, sport franchises that have their purpose as helping support severely injured soldiers wounded in the War on Terror. The city of Fairfield and the police officers provided by Fairfield and other agencies that escort this ride are commended for the support they show this memorial fundraiser now in its ninth year.
If any of you reading this have doubts about the "biker motorcycle community" in Greater Cincinnnati you should have been there. Some of the finest people that I ever ever met were in attendance. Some who have paid dearly with the loss of a family member that went to war so you could be free. ( Photo album fron Hero's ride 2013 )
It was an honor for be to be allowed to be a sponsor for the little that I contributed. I'll never forget the night I sat with John Prayzinski and interviewed him. I did not really know what to expect. I got to see how much love and pride one father had for his fallen hero son. And how much he still misses his son. And how much all these families miss their fallen heros.
This is my favorite motorcycle event in Greater Cincinnnati, Ohio. Thank you for your sacrifice. We can never repay you. But we can honor with you the memory of our hero's.
PS: For the veterans that are home and struggling you are not alone . There is help for you.
Please take a moment and download Dr Sam Arnold's ( Vietnam veteran) book on ptsd.
Click this link for help in Middletown Veterans can get help in Middletown Ohio for PTSD.
By Anthony Castelli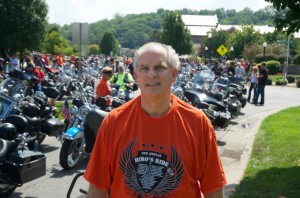 Anthony Castelli at Hero's motorcycle ride