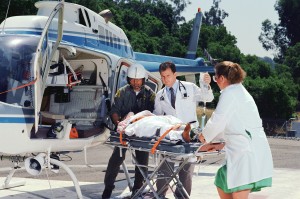 Truck Accident Helicopter medical team
University Hospital in Cincinnati, Ohio is a first class trauma hospital. But in serious car accidents seconds matter. So the emergency helicopter transport system is vital. This ensures that victims get to the hospital timely so that there lives can be saved.
Multiple Emergency Helicopters Transport Hamilton Ohio Car Accident Pepsi Truck Victims 
Recently  six people  were injured in a car truck crash  at Knightsbridge Drive and University Boulevard on Hamilton's East Side.  All of them were flown by three medical helicopters to University Hospital in Cincinnati for traumatic injuries.
It was reported by the Hamilton Journal news that a Pepsi delivery truck stuck a Nissan Sentra in the rear. Hamilton police and Fire department rushed to the scene to save lives and investigate the accident.
The vehicles were traveling in an easterly direction on Knightsbridge Road. Names were not released as family members had not been contacted.
Pugh said the other three occupants in the car were transported by ambulance to Fort Hamilton and Mercy hospitals after they were extricated by firefighters using the Jaws of Life.
Commentary;
These few facts cause me as as car accident injury lawyer to think of several things.
The case of a rear end collision is governed by the traffic code. This is generally know as failure to keep an assured clear distance. The Pepsi.driver that struck the sentra in the rear would normally be negligent as a matter of law.
Since the driver was in the course and scope of his employment presumably Pepsi would also be responsible. It is likely they are self insured and trucking companies and large self insured corporations tend to be difficult to deal with as much or more so as insurance companies. Delay and defend can be the order of the day.
I wonder how many lawyers sent letters and chiropracters made phone calls soliciting the injured victim's claims. Many times my car accident victims tell be they were appalled by what they felt to be ambulance chasing or an invasion of privacy by letters and calls they received. Although some people with no idea where to turn can be taken in by these solicitations.
For more information about truck accidents click here
Anthony Castelli Attorney represents injury victims in serious car truck accidents and other personal injury claims. With 30 years experience and over 25 civil injury trials he has the experience that has produced results. Call 513-621-2345 for a free consultation to get his legal help for your injury claim.