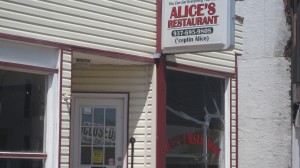 Alice's Restaurant
Many people in Ohio are in car accidents and get hurt in outlying cities, towns and villages of Ohio. They probably know a lawyer or two that did their will . But finding and getting to an experienced car accident lawyer may be more difficult.
However I have represented folks from all over Ohio. I am happy to throw my brief case in my car and take a road trip out to meet you and sit down in your living room or kitchen and gather the information I need to start the insurance settlement process. Not too long ago I was out in Winchester, Adams County, Ohio. I even had an oppportunity to get my hair cut at the local barbershop. I even took a picture of Alice's restaurant, although it was closed.
Some folks just can't make the trip down my way even though I am located right off I-75 and I-71 and I-275 and Montgomery road. I also have a satellite office in West Chester, Ohio.
So I want the folks in the following cities and villages to know that you have access to an experienced car accident attorney that will come to you. Let's go down the list if you live in Clermont county , Ohio and live in New Richmond, Owensville, Mt. Repose Moscow, Miamiville,  Bethel and Day Heights as well as Batavia and Goshen. I will be happy to be your personal injury lawyer. Also if you live in Clinton County, Ohio in Clarksville, New Vienna, Blanchester, Midland or Wilmington I would love to help you.
If you live in Adams County, Ohio in Manchester,West Union, Winchester, Peebles, Seaman do not worry about hiring a car accident attorney. I am happy to come your way. Let's not forget Highland county, Ohio and Greenfield, Leesburg, Hillsboro, Mowrystown, Buford, and Rocky Fork Point. I will not forget you and you deserve first rate representation.
Also the folks in Brown County in Aberdeen, Fayettville, Georgetown, Mount Orab, Ripley, Sardinia and Higginsport deserve help for their car accident to fight insurance company dirty tricks. Also many car accidents because of the curving two lane highways that also allow for higher speeds can end up in car wrecks that cause serious and devastating injury.
Just in case you read this and live in Butler county, Warren county or Hamilton County, Ohio  know that I am happy to make house or even hospital calls. Sometimes its critical to start investigating your car accident right away. So if you call and are still in the hospital or homebound or just can not arrange to get to me I'll get to you.  In fact I have travelled throughout Ohio to help people in need. And I'd be honored to help you right now.
For a Free consultation or to get started on your case today call me at 513-621-2345 or 1-800-447-6549
Anthony Castelli Accident and Injury personal and bodily injury car accident, truck accident and motorcycle accident attorney for over 30 years. Please watch this short video to see what my clients say about me: