Sharonville is a small town in Greater Cincinnati, Ohio. Because of I-75 running through Sharonville, the police have serious accidents to investigate quite often. They even have an accident reconstructionist that is quite diligent. I met him because of a wrongful death case I handled. His documenting the scene was critical in the outcome.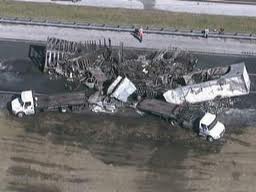 I-75 Cincinnati Truck Crashes
The interstate 75 corridor that runs north south through Sharonville is heavily travelled . The high speeds and the large amount of trucks running on I-75 make it particularly susceptible to very serious car accidents and wrongful death.
It seems like everyday there is a report of an auto  accident on I-75.  I am surprised there are not more given the amount of construction especially south of Sharonville near the Norwood lateral.  My blog injury lawyer on car accident injury news covers high profile accidents in  Greater Cincinnati. I like to comment on the tort law behind the injury. I also like to publicize the car, truck, or motorcycle crash because witnesses need to give their story to the police. Often third party eyewitness testimony is critical in determinig fault, and the witnesses do not always stick around to give their name to the police.
If you have questions about a Sharonville or other greater Cincinnati crash give me a call. I'm just a few miles away up Cornell to Montgomery avenue and your at my office.
Anthony Castelli Attorney
Cincinnati, ohio
513-621-2345