Posted: December 23, 2011
Do I need a Cincinnati personal injury lawyer was a question a lady asked me today. She had been in a car accident. She had not called the police . She had not been to a doctor and it was two weeks since the auto accident.  It was not a very long conversation. This is a great question. And if you are in a car accident never hesitate to ask a personal injury lawyer if you need their help. I am always happy to discuss with anyone if I can be of assistance to them . However not every lawyer is the same. Some lawyers will take any case . What if anything they do with it is another question. The simple answer to the question of, "Do I need a lawyer for my car accident injury,"  is whether you have a serious injury and whether you can prove someone else was at fault for causing your injuries.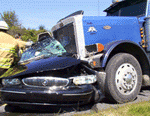 Cincinnati car truck injury accident lawyer
 Car Accident Injury Claims I Do Not Take I do not take every car accident injury case. Here are some guidelines of cases I will not take. 1. little or no car damage indicating a minor impact 2. Only one or two visits to the doctor 3. First visit to the doctor was not until 3 weeks or more after the car accident. I want to be able to make a difference in people's lives. I want to add value for the injury attorney services I provide. So please remember if you suffer in silence and do not get  medical treatment within a reasonable time I probably will not take your case. If you have a personal injury case in Cincinnati, Ohio or if you want to know what your lawsuit is worth, talk with an experienced Cincinnati Injury Attorney about your case. Call me, Tony Castelli at 621-2345 for a free consultation.