The deadly fungal meningitis outbreak linked to the New England Compounding Center has reached Ohio. In fact it has been confirmed that four locations in Ohio  received the tainted steroid for use in epidural injections primarily for back pain.  
The four locations in Ohio that have purchased the steroid from NECC are:
  Ortho-Spine Rehab Center in the Columbus suburb of Dublin, Cincinnati Pain Management, Marion Pain Clinic, BKC Pain Specialists, also in Marion.   The Centers for Disease Control and Prevention said on Saturday it has confirmed one case in Ohio although it did not say where. The Ohio Health Department said a 65-year-old man had been sickened, but it would not release his name or hometown to protect his identity. The man's illness was likely caused by a tainted steroid injection from a specialty pharmacy New England Compounding Center in Massachusetts that has been linked to the outbreak in other states, the health department said.   The Centers for Disease control is undertaking an investigation of the outbreak and is issuing advisories. Here is an exerpt of one of its web pages about the meningitis outbreak.  
Frequently Asked Question For patients: Multistate Meningitis Outbreak Investigation
  Is the source of the outbreak known? CDC is investigating medications and products that are associated with this outbreak of meningitis. At this point, the original source of the outbreak has not been determined. However, injectable steroid medication has been linked to the outbreak. The lots
 of medication that were given to patients have been recalled by the manufacturer. (The focus is on the New England Compounding Center. The Center has taken down its web site and has recalled all its products.) The type of epidural medication given to patients affected by this outbreak is not the same type of medication as that given to women during childbirth.   What states received the implicated product? California, Connecticut, Florida, Georgia, Idaho, Illinois, Indiana, Maryland, Michigan, Minnesota, Nevada, New Hampshire, New Jersey, New York, North Carolina, Ohio, Pennsylvania, Rhode Island, South Carolina, Tennessee, Texas, Virginia, and West Virginia. The names of the facilities that have received medication from one of these lots are available at https://www.cdc.gov/hai/outbreaks/meningitis-facilities-map.html.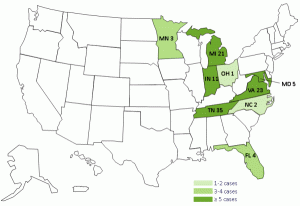 Meningitis outbreak Case counts
  It has been estimated that over 13000 may have been exposed to the contaminated steroids. This advisory for patients has been issued by the CDC: Patients who have had an epidural steroid injection since May 21, 2012, and have any of the following symptoms, should talk to their doctor as soon as possible:
New or worsening headache
Fever
Sensitivity to light
Stiff neck
New weakness or numbness in any part of your body
Slurred speech
Nine people have died so far linked to the tainted steroids. The New York AP reported the following:
  The CDC count of cases reached 105 on Monday, including eight deaths. A ninth death was reported late Monday by a Nashville, Tenn., hospital. Tennessee has the most cases, followed by Michigan, Virginia, Indiana, Florida, Maryland, Minnesota, North Carolina and Ohio. All had received shots for back pain, and investigators suspect a steroid medication made by a specialty pharmacy. About 17,700 single-dose vials of the steroid sent to 23 states have been recalled. Inspectors found at least one sealed vial contaminated with fungus, and tests were being done on other vials. The first known case of the rarely seen fungal meningitis was diagnosed last month in Tennessee. The steroid maker, New England Compounding Center of Framingham, Mass., recalled the drug, and over the weekend recalled everything else it makes. "While there is no indication at this time of any contamination in other NECC products, this recall is being taken as a precautionary measure," the company said in a statement. Meningitis is an inflammation of the lining of the brain and spinal cord, and a back injection would put any contaminant in more direct contact with that lining. Symptoms on meningitis include severe headache, nausea, dizziness and fever. The CDC said many of the cases have been mild and some people had strokes. Symptoms have been appearing between one and four weeks after patients got the shots. A Michigan man whose wife's death was linked to the outbreak said Monday that he, too, was treated with steroids from one of the recalled batches. "Not only have I lost my wife, but I'm watching the clock to see if anything develops," George Cary said, as friends and family gathered for his wife's wake in Howell, 60 miles northwest of Detroit. His wife, Lilian, 67, had been ill since late August, but meningitis wasn't detected until Sept. 22, her husband said. She suffered a stroke and died Sept. 30, he said. This video is a good summary of the fungal menningitis outbreak. https://news.yahoo.com/health-officials-enlist-police-growing-meningitis-scare-171321026.html     By Anthony Castelli Attorney a personal injury lawyer having handled product liability cases as well as serious personal injury and fatalaties caused by negligence or product contamination or defect.  Anthony is following closely the outbreak of the viral meningitis and is available for consultation for serious injury and death caused by fungal infections. He welcomes your call at 1-800-447-6549 or 513-621-2345 Anthony Castelli 8170 Corporate Park Drive #220 Cincinnati, Ohio