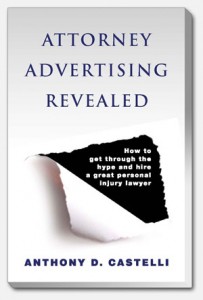 Personal injury Lawyer
Just because a lawyer is listed in a lawyer referral service on the internet does not mean they have any particular qualifications more than any other lawyer for your case. As a personal injury lawyer I have reviewed many lawyer referral services and lawyer directories. Most of them just require you to sign up and there is no particular vetting process.
For instance the Cincinnati Bar Association has two types of Lawyer referral services. The lawyers must me members of the Cincinnati Bar Association and be in good standing and carry insurance. The rest of the information required is by the lawyers own certification and is limited. One directory requires the lawyer to pay $150 a month and the other lawyer source is less. Although there are certainly good lawyers in these services and the Cincinnati Bar association does a lot of good work there is not a serious deep vetting process.
Peer Review Lawyer Referral Services May Provide More Significant Evaluation and Information
There are three services that in my opinion stand out as more valid rating services of Lawyers . They are generally broken down by practice area and have specific criteria that each lawyer must meet. These services verify the information. Additionally a peer review process where ratings of these lawyers are collected from other lawyers and/or judges serves to give validity to these services.
These services generally rate the lawyers on ability and ethics.  So its just not a pickem process by throwing darts, but a comparison of the rankings can serve to differentiate the skills and ability from one lawyer to another.
The Big Three Lawyer Rating Services on Finding a Advocate
The big three lawyer rating services by category such as personal injury or other practice areas are AVVO, Martindale Hubbell, and the Super Lawyers. You may want to check each one of these services. Some lawyers are top ranked in all of these services. That would seem to be a good place to start your process of choosing a lawyer that is right for you.
Martindale Hubbell 
Matindale Hubbell is the grandaddy of them all. Their highest peer review rating is AV or preemminent. MH describes their ratings as "an objective indicator of a lawyer's high ethical and professional ability, from evaluations of lawyers by other members."
Lawyers are first rated ethically and then on Legal Knowledge, Analytical abilities, Judgement, Communication Ability,  and Experience.
The ratings go from 1-5. Martindale states that " AV Preeminent® (4.5-5.0) - AV Preeminent® is a significant rating accomplishment - a testament to the fact that a lawyer's peers rank him or her at the highest level of professional excellence."
AVVO
AVVO states that its rating is an effort to evaluate the attorney's background based upon known information. They use years in practice, disciplinary history, professional achievements and industry recognition among others. They periodically collect background information from court records, websites, and state bar associations and give their rating based on a numerical ranking from 1-10.
They believe their rating is helpful because it is unbiased, does not show favoritism, is developed by legal experts and is easy to understand. They clearly state that this rating is not the only thing you should use to choose a lawyer. That is why they provide a place for lawyer reviews by lawyers and clients.
Super Lawyers
Super Lawyers describes itself as s a rating service of outstanding lawyers from more than 70 practice areas who have got a high degree of peer recognition and professional achievement. The selection process is multi-phased and includes independent research, peer nominations and peer evaluations.
They have been granted a US government patent on their selection process for a lawyer to be named a "Super Lawyer." The final published list represents no more than 5 percent of the lawyers in the state.
Do your Own Research
It is important to do your own research and review the lawyer's website. Testimonials of former clients and case results are also a good place to look. Many lawyers now provide videos so you can see how the lawyer apperas and relates to you the legal consumer. For more information on choosing a lawyer download the book I wrote on Lawyer
advertising. Click here for a free downloadable ebook.
Anthnoy Castelli is listed as an Ohio Super Lawyer in Personal injury . He is peer review ranked preeminent by Martindale Hubbel, their top rating.  AVVO ranks him as a 10 out of 10 Superb. Click on the following links to see his rankings.
Anthony Castelli Counselor at Law Ohio Super Lawyer in Personal injury Law
Anthony Castelli Lawyer Matindale Hubbell Rating Peer review
Anthony Castelli Attorney AVVO Ranking
Call today to speak with Tony for a free claim evaluation locally in Cincinnati at 513-621-2345
Meeting office satellites available by appt in Columbus, Dayton, and West Chester, Ohio. If you can not get to Tony he will be happy to come to you. 1-800-447-6549. He practices bodily accident harm law throughout Ohio.