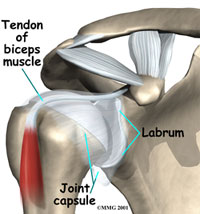 Shoulder Injury
Personal injury lawyers by definition take claims where people have been killed or injured by the fault of another. The art is determining how much the claim is worth and getting that amount of money so the accident victim gets as much money in their pocket as possible. The idea is to make the injury victims whole for all the harms another's negligent conduct caused them. This is not a simple matter since the insurance companny on the other side wants to make a profit. They do this by taking in premiums and paying out a little as possible. So an injury attorney must do everything in their power to convince the insurance company that if the case were taken to a jury verdict that a large amount of money would be awarded. Here's what happened in a  case I recently handled.  
My client was struck from the rear in a car accident.  She noticed her shoulder and neck were hurting. She went to Urgent Care and her family doctor and then saw an orthopedic surgeon. She had several MRI's and a CT scan and physical therapy. The tests did not show much but her clinical examination showed painful range of motion and some instability in her shoulder.
She elected for surgery and there was found to be  a SLAP tear. This stands for Superior Labrum Tear Anterior to Posterior. The joint capsule was tightened by the surgery and there was generally a good recovery.  There were some permanent residuals in terms of some small degree of limitation of motion and pain upon weather change. But the Doctor did not place her on any restrictions.
The monetary loss was $34,000.00 in medical expenses. I had a baseline to compare it to since I had obtained a jury verdict for a rotator cuff tear for $108,000.00.  However, there were lost wages in that case and nature of the residual pain and restriction was more severe.  
Lawsuit Preparation of the Shoulder Injury 
All of the medical records and bills were reviewed. Depositions of the injured party and the negligent driver were taken . The insurance company lawyer left no stone unturned in gathering medical records and there was small prior injury to her shoulder but nothing very significant. We had all of these records and supplied them so we knew all the issues going in.  
Mediation of the Shoulder Injury Settlement Claim
  The parties agreed to hire a mediator. A mediator is a neutral party that helps the parties reach a settlement, but can not impose one.  Each mediator has theirown style. (Some are worthless and some are very good) The important thing is that the insurance company and myself knew the person who would be the mediator. Although the parties have to agreee on the mediator its best if the defendant knows and trusts the mediator. If you can let them make the suggestion of someone you trust then the advanatage actually accrues to the injured person.
Before the mediation I called the defense lawyer I had known for years from other battles. We were able to square a away a $10,000 discrepancy in the calculation of the medical expenses. This only took a 1/2 hour as the defense lawyer sent me his calculations and I convinced him that a mistake in calculation had been made.
If this would have not been addressed prior to the mediation we would have wasted valuable time just agreeing on simple arithmatic. After several hours of negotiations  a settlement was reached for $85,000.00 In my opinion this was well above the low end a jury may have awarded and somewhat below the high end. Additional expenses of another $7500.00 to prepare the case for trial in terms of doctor's testimony and paying them for their time was saved. In fact some studies have shown a median verdict to be $76,000 for similar should injuries includung rotator cuff tears.  
The takes aways are :
The case must be prepared meticulously
Familiarity with the mediator is important
The client must be fully prepared for the mediation
Communication with defense counsel on issues that should be mutually agreeable needs to be checked
A mediation statment to the mediator in advance is critical
Experience of the attorney , their preparation of the claim and reputation for trial success are essential.
  Resources: Slap Tear Shoulder Injury Mediation Explained   Anthony Castelli Attorney at Law has 30 years experience and over 25 civil jury trials. Click here for accesss to his web site with tips, videos and free ebook downloads. He offers a free consultation and handles these claims on a contingency fee. You may reach him at 513-621-2345 for the legal help you need.