It was reported today in the Cincinnati Enquirer that a Cincinnati man was bitten and mauled by his own  dog and killed. Ronnel Brown was killed by his own Alapha blue blood bulldog that weighed 90 pounds.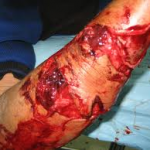 Dog Bite injury Cincinnati
According to reports, Brown called 911 saying he'd been attacked by his dog. When help arrived he was found dead. The dog had to be shot by police as it was acting aggressively towards emergency personnel trying to enter the apartment to give aid. No one had any answers why an apparently healthy dog , without signs of abuse would attack its owner.
The breed is described as tenacious, elegant, aloof, independent yet loyal. This underscores how dangerous dog bites and dog attacks can be.
Defending yourself or preventing a dog attack can be difficult. Many expert's tell you not to run or make eye contact with the dog.  My philosophy is get out of harms way. Do not allow your children to pet a stray dog and if you see a dog running in you neighborhod call the county dog warden.
If you are attacked by a dog stand tall and try to kick it in the face. Climbing up on a car or in a tree can get you out of harms way. As a Cincinnati dog bite attorney I once had a client in a fight for her life with a German shepherd. Luckily she was able to roll to safety as the dog was actually tethered , but attacked her on the sidewalk. However her arm was horribly injured. I was able to get her significant compensation for her injuries.
If someone else's dog bites, attacks or injures you in any way in Ohio, this is generally a compensable injury. The person's homeowners insurance could be a source of payment.
By Anthony Castelli dog bite attorney in Cincinnati
For more information about Ohio dog bite injury visit my Frequently asked questions  about Ohio dog bite law .
Anthony Castelli Attorney
8170 Corporate Park Dtive
Cincinnati, ohio 45242
513-621-2345