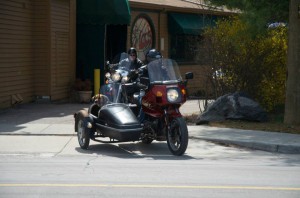 Look Twice
The Cincinnati motorcycle community put on it's first event ride of the 2014 season this past Saturday.  It was called Look Twice Cincy .As a motorcycle attorney that rides I was proud to be one of the sponsors of the biker event. The ride highlighted visibility and gave a prize to the most visible rider. It started at Mac's place wound its way through Oakley and ended up at Township Fields Tavern. As usual the emphasis of the ride was safety. To many riders are still getting killed and maimed through neglectful motor vehicle drivers or their own inability to control thier motorcycles. According to the Centers for disease control crash related data motorcycle accident deaths reached an all time high in 2008 while death involving motor vehicles cars and trucks reached an all time low. (1)
A recent CDC study found that:
34,000 bikers were wiped out between 2001 and 2008. This was a 50% increase in the death rate. Motorcycle helmets are not the issue . It's preventing the crashes in the first place. Though I can't see riding very far without my helmet. Even if I just got rode burn from sliding face first across the pavement I probably would not be able to handle it. With more men and women every year finding this passion injuries and deaths to motorcyclists have become a major health concern. Bikers are coming from all walks of like. Doctors , lawyers, machinists, secretaries, receptionists. You name me a person, race, creed or color and someone is on their scooter. Many are responsible. A few are not. And too many cagers just don't look twice or look effectively. The main stream media cares less. I've tried to reach them more than once. The only reporting you get is negative. So we blog here as a motorcycle enthusiast, former dj of Cincinnati Biker Life and supporter of the great charitable events. If you are having a Cincinnati Motorcycle ride please contact me and I'll be happy to sponsor, send a photographer out and send the "Ohio Motorcycle Safety Kit" .  For safety tips and how to protect yourself legally you can download for free the
Ohio Motorcycle Bible
. If you did get to go to the Look Twice Cincy event take a look here at the picture album and tag yourself.
Look Twice Cincy Spring Visibility Ride Photo Album
 Sources 1. http://www.cdc.gov/features/dsmotorcyclesafety/index.html