Assumption of risk is a defense to a claim of negligence. Depending on the State it can either be a complete defense or a partial defense. The defense is defined in Ohio  as knowing and voluntary acceptance of a risk of injury that was a cause of your injury. In Ohio the defense is merged with contributory negligence and only defeats recovery if the conduct was 51% or more of the cause of the injury.
This defense to a personal injury or a car crash also reduces the recovery by the percentage of fault assessed to the person bringing the personal injury lawsuit. Years ago both contributory negligence and assumption of risk if proven were total defenses that totally defeated any recovery.
An example could be the recent lawsuit filed by the estate of former Cincinnati Bengal Chris Henry. Here is a short version of the event.
Neighbor Lee Hardy told WLWT-TV and The Cincinnati Enquirer that he was working in his yard when the truck left the driveway. Hardy said Henry was yelling that he needed to talk to the woman behind the wheel. "He said, 'If you take off, I'm going to jump off the truck and kill myself,'" Hardy told the newspaper.
The law of the State controls . But for teaching purposes assume this was an Ohio case. If they found Cris Henry's conduct was contributorily negligent or was an assumption of risk and his conduct  caused  more than 50% of his injury there would be no recovery. Some states allow you to recover  that portion of your recovery that is determined to be the fault of the defendant even if it's less than 50% but not Ohio.
Sounds a bit confusing, but this is something a jury , if called upon would have to grapple with. You also find this conduct among teens that jump on a moving car and then are thrown off. Clearly there is a large component of fault in the example of the Henry case if he jumped onto the bed of the truck . Although you never want to determine a case from the newspaper,  as it is necessary to know all the facts and all the law.
If you have a question or need help with your personal injury car accident claim please call me today for a no obligation free consultation at 513-621-2345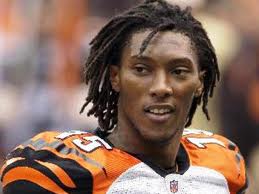 Former Cincinnati Bengal Chris Henry