Urgent Safety Bulletin on Meningitis Outbreak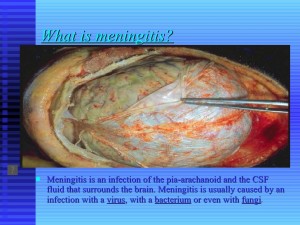 Meningitis
A deadly outbreak of fungal meningitis has been tied to contaminated  steroid injections prepared by the New England Compounding  Center. If you have had epidural steroid injection contact you doctor immediately or go to the emergency room even if you have not experienced any symptoms.
The first known case was diagnosed a little over two weeks ago in Tennessee.
Symptoms may not develop until more than a month after the injection. Immediate medical treatment is critical to prevent serious injury or death.
What Is Meningitis 
Meningitis is an infection of the pia-arachnoid and the CSF fluid that surrounds the brain.
FDA  Recall and Action
The FDA has issued a recall of the tainted steroid and has released a list of 34 different drugs this morning that included steroids, epidural anesthetic used to block pain during child birth, and surgery and saline solutions that are compounded to make different medications.
Health officials say 76 medical facilities in 23 states received the contaminated steroid injections from NECC. A list of the 76 affected medical facilities is on the CDC's website at www.cdc.gov/hai/outbreaks/meningitis-facilities-map.html.
The first press release by the FDA was released 10-5-2012 and can be found at http://www.fda.gov/Drugs/DrugSafety/ucm322734.htm
The Center for Disease Control and Prevention issued an official advisory on October 4th stating in pertinent part:
Physicians
Physicians should contact patients who have had an injection (e.g., spinal, joint) using any of the three lots of methylprednisolone acetate listed above to determine if they are having any symptoms. Although all cases detected to date occurred after injections with products from these three lots, out of an abundance of caution, CDC and FDA recommend that healthcare professionals cease use of any product produced by the New England Compounding Center until further information is available.
Patients 
For patients who received epidural injection and have symptoms of meningitis or basilar stroke, a diagnostic lumbar puncture (LP) should be performed, if not contraindicated. Because presenting symptoms of some patients with meningitis have been mild and not classic for meningitis (e.g., new or worsening headache without fever or neck stiffness), physicians should have a low threshold for LP. While CDC is aware of infections occurring only in patients who have received epidural steroid injections, patients who received other types of injection with methylprednisolone acetate from those three lots should also be contacted to assess for signs of infection (e.g., swelling, increasing pain, redness, warmth at the injection site) and should be encouraged to seek evaluation (e.g., arthrocentesis) if such symptoms exist.
For guidance on diagnostic testing that should be performed on patient specimens, physicians can go to http://www.cdc.gov/hai/outbreaks/meningitis.html. State health departments should be informed of patients undergoing evaluation. Clinicians should report any suspected adverse events following use of these products to FDA's MedWatch program at 1-800-332-1088 or www.fda.gov/medwatch.
If you think you are at risk you are urged to contact your doctor immediately.
Provided as a public service by Anthony Castelli Attorney. Anthony is a Ohio personal injury lawyer with over 30 years experience. He offers free consultation on serious personal injury matters. He can be reached at 513-621-2345 or 1-800-447-6549
His web site is www.castellilaw.com