There was a man killed in Middletown last week as a result of a dump truck. The Middletown Journal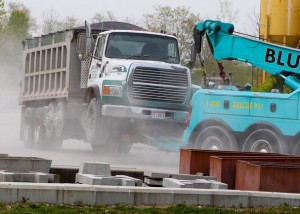 dump truck death product liability
reported James Rolfert of Colerain township died when the dump truck he owned rolled backwards on him. It was reported that the dump bed was in a raised position and fell backwards on top of him.
This incident occurred at Baxter Precast. The occupational health and safety administration is investigating. It is difficult to determine from the report if the dump truck itself actually fell backwards or whether the dump bed fell crushing him.
It is critical to an investigation like this that the dump truck and all components be examined and retained. Very possibly there could be a product liability claim against the manufacturer or designer of the dump truck if the dump truck was defective in manufacture or design.
The landmark case of Bowling v Heil which I tried with my partner involved a dump bed falling and crushing a young man between the dump bed and the rails. A product liability case was brought against Heil Company and went all the way to the Ohio Supreme Court which upheld the product liability wrongful death verdict.
It is impossible to tell from the limited news reports whether there is such a claim. However cases like this call for independent experts to review the facts and circumstances of this incident.It could be easily overlooked that a safer design could have prevented the accident.
Anthony Castelli Attorney Satellite office located in Butler County
8170 Corporate Park Drive at Union Centre Boulevard
Cincinnati, Ohio 45242
513-621-2345