Posted: November 21, 2012
As a injury lawyer in Cincinnati, Ohio following the meningitis outbreak I have learned that epidural steroid injections ESI are dangerous and may not even have any lasting benefit.  So that you do not think this is just another bodily harm lawyer spouting off I will offer medical reference.  
Intraspinal steroids: history, efficacy, accidentality, and controversy
A review   by Nelson and Landua in the Journal of Neurology and Psychiatry 2001;70:433–443 attempted to answer these 5 questions: 1. Are intraspinal steroid therapies effective for back pain or radicular syndromes? 2. Do epidural injections remain confined to the epidural space ? 3. Are presently prescribed steroid formulations neurotoxic? 4. What are the risks of epidural steroid injection? 5. What information should be given to patients in obtaining informed consent for these procedures?  
A picture of the spinal canal may help the lay person understand their answers.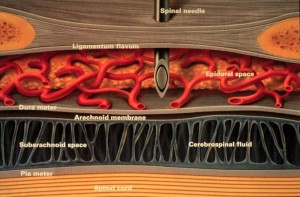 Epidural Steroid Injection Danger
  The epidural space is an anatomic structure that surrounds the dura mater within the spinal canal and extends to the brain itself.   Above you can see the needle going into the epidural space. Immediately adjacent to the epidural space is the subarachnoid space. The significance is that if the needle inadvertantly injects the neurotoxic steroid into that area grave problems can result such as arachnoiditis. This is a painful and disabling injury.  
Answers to the Five Questions About Epidural Steroid Injections
(1) Intraspinal steroid therapy is not effective therapy for back painor radicular syndromes because steroid formulations, placebos, and sham injections have similar outcomes. (2) When injected, epidural medications may not remain confined to the epidural space and some inaccuracies of placement approach 40%. (3) The additives of steroid formulations— polyethlen glcol. benzyl alchohol, and benzalkkonium chloride-can be neurotoxic when injected intrthecally. further research may disclose that the steroid formulations and mixtures themselves may be neurotoxic. (4) Epidural steroid infusion may result in increased pain. there also may be serious complications of arachnoiditis, spinal infection, or permanent neurological deficits. (5) Patients should be informed that there is no evidence that epidural steroid injections provide permanent relief of pain. Serious permanent complications to the spinal cord are rare but there is risk.   Additional Resources: The Burton Report http://www.ehlinelaw.com/pages/3133/Tutorial-Review-Spinal-Cord-Disc-Bulge.htm   by Anthony Castelli Attorney a personal injury lawyer in Cincinnati Ohio. Mr Castelli has handled hundreds of back injury claim settlements resulting from negligence of others. He offers a free conultation