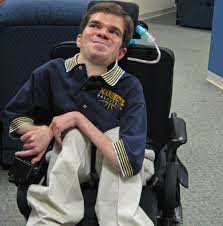 About three weeks ago I got a call out of the  blue that started with: "We want to put you  in jail." At first I was slightly startled, but  my "guilt " was lessened when the caller told  me that this was a call to help the Muscular  Dystrophy Asociation with a fundraiser for  disabled children.
Before I get into the discussion about the  fundraiser let me take a moment to explain  Muscular Dystrophy.
What Is Muscular Dystrophy
M.D. is a general term for hereditary diseases that attacks the skeletal muscles and often other organs. muscles. The disorder differ in terms of severity, age of onset and other particulars.
The most common form of muscular dystrophy is Duchenne. It primarily affects boys and is caused by not having dystrophin, a protein that helps maintain the muscle to work properly. Most with this form are unable to walk by age 12 and many end up on a respirator. There are about 400-600 new cases each year in the United States. (1) (2)
What Can You Do To Help Fight Muscular Dystrophy
If you would donate some "bail" money for me every cent goes directly to muscular dystophy to help those afflicted . Contributing to the MD Blue Ash, Ohio lock up is as easy as clicking on this link. MDA Lock Up This is a great charity event where others will also be "locked up" at the Firehouse Grill. They will pick me up on Wednesday, November 6th and take me to jail while I await enough bail to be set free.
My particular bail has been set at $1600. This is enough to send two kids to summer camp. By donating to this cause, you will be participating  in this event and  making a difference in the fight against Muscular dystrophy.
Honor Role of Givers That Make a Difference
 Jonathan Rosenfeld - Chicago personal injury lawyer
Chuck Taylor & Christine DeGraff - a great couple who give a damn and #Circlemaster
Law Offices of David Altman - A criminal law Defense Lawyer
Robin Scroggie-  Los Angeles Criminal Trial Attorney
Seth Price - Seth Price is a founding and managing partner of Price Benowitz LLP, a 20-lawyer law firm headquartered in Washington D.C., with satellite offices in Maryland and Virginia.
Steven M. Sweat - Los Angeles Personal Injury Attorney Who Really Cares
So please may I add your name to this honor role of people that give a darn about making a difference. No amount is to small. There is hope . Research is ongoing. Just take a look at this link http://www.sciencedaily.com/releases/2013/09/130909092510.htm to read about the potential new break through. So please speak from your heart with your pocketbook.

by Anthony Castelli
Resources and Sources
http://www.mayoclinic.com/health/muscular-dystrophy/DS00200