Recently a judge ordered Jennifer Nettles of the country group Sugarland to give testimony in the Stage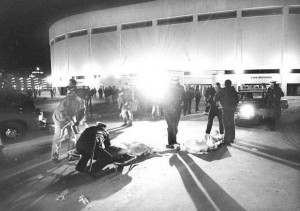 Who concert deaths
Fair Collapse involving Sugarland. Seven people were killed and many more were injured when the stage collapsed.
The area of inquiry is simple. Did the band refuse to delay the start of the concert because of severe weather.
On December 3 , 1979 the Who concert in Cincinnati, Ohio spawned death and injuries , not because of a stage collapse , but because of the push of the crowd and the stampede to get in that caused crushing injuries from the inability to breath in the mass of people crushing each other, resulting in the killing of innocent youth.
It's somewhat shocking that since then the Who case was just the tip of the iceberg. The tip of the iceberg is now visible yet one more time in the guise of the Sugarland concert. According to estimates available , the post-Who concert tragedy period has produced at least 132 concert crowd safety-related deaths worldwide-crowd crushes, festival seating deaths, over crowding, moshing, violence, etc. (Forty-nine deaths, or 37 percent, were in the United States. ) In addition, over the last 30 some years hundreds of thousands of concertgoers have suffered injuries and property damage costs in the United States can be placed in the millions.
Although the Who death dealt with crowd management and the Sugarland concert dealt with stage collapse the international Association of Auditorium managers needs to be more proactive in developing stronger standards that would , if followed prevent anymore music concert and deaths.
By Anthony Castelli Serious injury and wrongful death lawyer can be reached at 513-621-2345