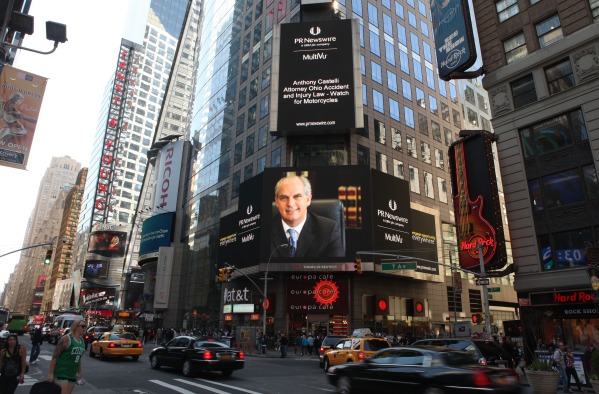 Ohio Motorcycle Accident Injury Lawyer Anthony Castelli  on Reuters news sign on Times Square
[Cincinnati, Dayton , Columbus, Ohio May 2013] –
Motorcyclists fatalities have increased over the past decade. Only by increased safety efforts has the loss of life been slowed. That's why Ohio Motorcycle Accident Attorney Anthony Castelli announced today that he is joining with other federal, state and local and private motorcycle organizations, groups and clubs in proclaiming May 2013 as "Motorcycle Safety Awareness Month."
All motor vehicle operators are admonished to safely and carefully share the road with motorcycle riders.   Please be on extra alert when driving your car or truck to keep motorcyclists safe.
More and more motorcycle riders are taking to the roads from all walks of life. Women are riding in increasing numbers. As the weather gets better you will see more and more bikers on the highways and byways of this great United States.
Motorcycles may be hidden in car and trucks blind spots. That's why auto drivers need to check twice , before making a move from one lane to another, or pulling out into the roadway or turning left at intersections. This would not only lessen motorcycle car crashes but all kinds of crashes.
Anthony Castelli, a lawyer that rides a motorcycle  stated, " I've created and made available to all Ohio motorcyclists the Ohio Motorcycle Safety Kit. All Ohio bikers need to do is call or email me with their name and address and I will send this safety kit to them for free. I was excited to have the opportunity presented by Reuter's to place my message Watch for Motorcycle in Times Square. But there was more that I though I could do so I created this safety kit. Free to Ohio riders and $11.77 to motorcyclists form anywhere else. "
The kit includes a "Watch for Motorcycle" bumper sticker, a tire guage, and the Ohio Motorcycle Bible - The Guide to Protecting Ohio Motorcylists and Their Families. For more information about the kit please see the motorcycle safety press release
Federal Government Motorcycle safety Resources: http://www.nhtsa.gov/Safety/Motorcycles